I know, I know, another vase. For some reason all of my craft ideas are for vases. I assume this will pass but for now I am just enjoying the ride.
Here is my

Mother's Day Keepsake Vase
This project was made with a;
Dollar Store Vase

Photographs printed on regular printer paper

Spray glue

Modpodge

Clear satin spray paint
First I found pictures of my first three children when they were between the ages of 2 and 5. I had them just a few years apart so it was like having triplets.

Those memories are priceless.

Because these pictures were taken in the pre-digital camera era I had to actually take a picture of the photographs and then edit a bit to get out the graininess. During the edit process I was also able to crop them to the size I needed to fill the spaces on the vase. I also printed them all out as black and white. This helped to improve the qu

ality a bit.
Next step was to spray the dollar store vase with glue.
Then I began to place the pictures on the vase in random patterns. I had to return to the printer a few times to tweak the sizes of some of the pictures so that they fit. As you can see there are still some areas of the vase that are not covered with pictures. The spray glue gave the glass a frosted look, which I liked and wanted to show through a bit so it worked out

well.
Once all the pictures were stuck down I painted two layers of ModPodge over the entire vase followed by a coat of sa

tin clear coat.
Add flowers and you have a great

gift for Mom!
Thanks for visiting,
update: 4/26/13
This project was feat

ured on Craftionary's Friday Link Party.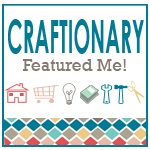 update: 4/29/13
This project was also featured on Huckleberry Love, Much Ado About Monday Linky Party.