If I won the lottery the first thing I would do would be to search for the perfect craftsman style home. No, wait...I would find 2, one here (Maryland), were I have lived all my life and one in California where my son's both live. The one here would have to have water views and the one in California would just have to be close enough to both my son's so that I could be close to my grandchildren, (who are not even born yet because neither of my sons are married or even in a relationship but someday...).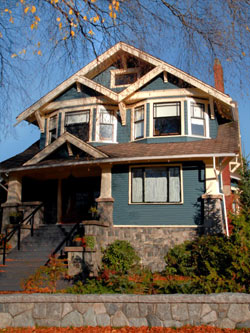 Why craftsman style? When I walk into a Craftsman home I get a sense of lifestyle. The Arts and Crafts Movement revived artistic craftsmanship with a focus on simplicity, function, harmony and nature. I get this feeling inside of one these homes, especially those built in the early 1900's that have been preserved well. Not to say that those built from today's plans don't have those same wonderful features but there is something magical about a home that has housed many families over time. These homes seem to have absorbed a harmonious and practical lifestyle of time past, a lifestyle am more drawn to the older I get.
Both homes would have to have the same basics like 2-story, entrance foyer, large front porch, 4 or 5 bedrooms, (hey..I'm rich now LOL), at least 3 full bathrooms, a great eat-in, sit a spell, drink some coffee and chat kitchen, a large family room with a fireplace (for the Grandkid's who aren't born yet Christmas stockings), a covered/enclosed back porch, spacious yard, garage and workshop, mud room attached to a laundry room with a laundry shoot from the floor above, a room for all our books and lots and lots of windows.
Now of course I would be doing a renovation because what house is a home right off the bat...right?* Actually the renovation would be the fun part and having just won the lottery, I would not have to do all the work myself (just what I wanted to do). I guess that is one of my dirty little secrets...I don't always want to do all the work when renovating. Just the fun stuff ;) LOL.
*Noticed I said "I"...my husband hates renovations and would defer the entire project to me with his blessing. I love him for that and for the fact that he trusts my judgement (...and I don't have to confer any of my plans and have complete control LOL...)
Some of the must-have details that I would want in my craftsman home would be a fireplace with build-ins on each side,....
During my search for information for this post I came across some great reads.
Enjoy!
I join THESE linky parties...check out the fun!
Thanks for visiting,